Welcome to Resort Hotel Sommarhagen

– Sweden for real
In the middle of southern Östergötland's wilderness, among forests,
lakes and meadows - but only 2.5 hours from Stockholm or Gothenburg
- is the old vicarage, now carefully renovated into a comfortable hotel.
Do you like to escape from the stress of everyday life, to an oasis
where you can experience absolute tranquillity and untouched nature?
Then Sommarhagen is the right hotel for you. Here you are in the middle of forests and lakes,
far from the city's noise and hustle and bustle, in the middle of the wilderness
and you enjoy really good food, fantastic nature and above all - complete relaxation.
If you want to enjoy the beautiful surrounding nature,
there are many different activities to choose from.
Here is something for everyone.
Please look under Experiences and Packages for inspiration and offers.
Enjoy Nature & Comfort in all seasons.
Then you return to everyday life - rested to both body and soul.
We look forward to making your stay an unforgettable memory!


A warm welcome to Sommarhagen!
Marianne o Bengt-Göran Jordvi with staff
A visitor experience when staying at Hotel Sommarhagen
Read about it
here.
We had some guests in our garden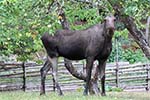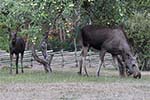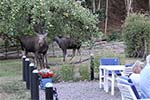 Some of them prefer appels from our garden instead of the menu we serve from the kitchen
Now we can also offer our guests elecric car charging here at Sommarhagen
We are members of
NATURE TOURISM COMPANIES
ATTA - ADVENTURE TRAVEL TRADE ASSOCIATION

SWEDISH WELCOME